162 Too Hot Pick Up Lines For Him And Her
Welcome to my blog on hot pick up lines! If you're looking for a way to add a little extra spice to your love life, then you've come to the right place. In this blog post, We'll share some of the best pick up lines that I've come across. So whether you're looking for a way to impress your crush or you just want to have a little fun, be sure to check out this blog post!
Too Hot Pick Up Lines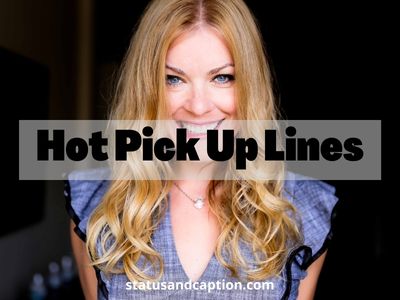 Would you like to try an Australian kiss? It is just like a French kiss, but down under.
Is it hot in here, or are your boobs just huge.
You're on my list of things to do tonight.
My mom told me that life is like a slot machine, you never know what you are going to get, but with you, I got the royal jackpot.
I'm going to need a tall glass of cold water, because baby your making me HOT!
You know what I like in a girl? My dick.
That's a nice shirt. Can I talk you out of it?
The FBI is looking for my p_____. Could I hide it inside of you?
I have a big headache. I hear the best cure for headaches is sex. What do you say we go upstairs and work out a remedy?
Your name must be Coca Cola, because you're soda-licious. (Hot Pick Up Lines)
Want to spin my dreidels?
Nice dress. Can I talk you out of it?
Your legs must be tired because you've been running through my mind all night.
Tell me what Heaven is like because we all know you just fell from there.
Is there an excessive heat warning or am I just hot for you.
That dress looks great on you… as a matter of fact, so would I.
Wanna go light my menorah?
Is your mom a gymnast because you are a perfect 10!
What does it feel like to be the most beautiful girl in the room?
I think you're suffering from a lack of vitamin me.
You're So Hot Pick Up Lines
Apart from being sexy, what do you do for a living?
Baby, you're so hot, you make the equator look like the north pole.
Does your left eye hurt? Because you've been looking right all day.
Goodnight. And if you dream of me, remember I like it rough.
I want you more than a Popsicle on a hot summer day.
I was feeling a bit off today, but then I saw you and instantly got turned on.
Those are some nice legs. What time do they open?
I wanna floss with your pubic hair.
I got Hanukkah gelt in my pockets. Do you want to go get them?
If beauty were time, you'd be an eternity.
I find your lack of nudity disturbing.
You dropped something. My jaw.
Did you just come out of the oven? Because you're hot.
Roses are red, violets are blue. Sugar is sweet, I bet that p_____ is too. (You're So Hot Pick Up Lines)
Complete this sentence: You, me, and ____.
You must be my Tinderella because I'm going to make that dress disappear at midnight.
You are so hot, I bet you could melt my under-wire.
Did the sun come out, or did you just smile at me?
Kiss me if I am wrong but is your name, Jill?
Did you hear of the new disease called beautiful, I think you're infected.
I'm telling you right now; you make me want to be a better person.
Are those pants on sale? Because they're 100% off at my place!
If a girl's name is heather say: Your so hot the first four letters of your name spell heat.
Do you use an inhaler? Because you got assssss, ma.
I may not be a windshield repairman, but I can still fill your crack in.
If you look that good in clothes, you must look even better out of them.
Stop, drop, and roll, baby. You are on fire.
Is your name Google? Because you have everything I've been searching for.
Did you get those pants for 50 percent off? They're 100 percent off at my place.
My voice ain't deep, but my throat is.
Much like Santa, I also have a gift for you in my sleigh.
Hot Pick Up lines For Guys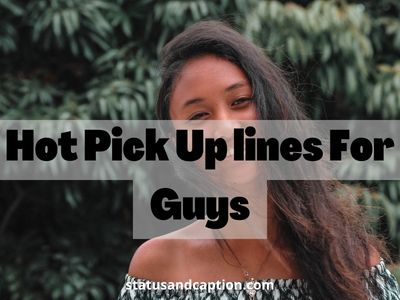 Did I tell you I'm writing a book? It's a phone book and it's missing your number.
Do you work at build-a-bear? Cuz I'd stuff you.
If you weren't here I'd be the hottest person in this place.
I'm not drunk; you just intoxicate me
Someone should call the police because you just stole my heart!
Excuse me, but I DO think it's time we met
Screw me if I am wrong, but haven't we met before?
Is your father Little Caesar? Because you look Hot 'n Ready.
You must be in a wrong place – the Miss Universe contest is over there
If it weren't for the summer sun, you'd be the hottest thing ever created.
What is a nice girl like you doing in a dirty mind like mine?
Want to save water by showering together?
Do you work at a tech store because you turned my software into hardware.
Was that an earthquake or did you just rock my world?
If it weren't for that DAMNED sun, you'd be the hottest thing ever created.
Your body is made up of 70% water. . .and I'm thirsty.
Currently, I am not an organ donor, but I would love to give you my heart.
With school, I just want an A. With you, I just want to F.
I'm not feeling myself today. Can I feel you instead? (Hot Pick Up lines For Guys)
Do I know you from somewhere? Because I don't recognize you with your clothes on
Hey, I have a kitten. You could pet mine if I could pet yours.
Roses are red. Violets are fine. You be the 6. I'll be the 9.
If you were a year you'd be the last one, because you're the hottest on record
Hi, I'm the new Milkman. Do you want it in the front or the back?
Hey, you dropped something. . .my jaw.
Hey, I am cute. You are pretty, so let's hook up and be pretty cute!
I know you're busy, but could you add me to your to do list.
Is it hot in here, or is it just you?
You must be a small amount of red phosphorus and I must be a tiny wooden stick. . .because we're a match.
Is your father a boxer? Because baby, you're a knockout.
Are you a raisin? Cause you're raising my hopes for a kiss right about now.
Hot Chat Up Lines
Let me insert my plug in to your socket and we could generate some electricity.
Just checked my battery life, it's at 69%.
Vogue just called; they want to put you on the cover.
Are you an elevator, 'cause I'll go down on you.
When a penguin finds a mate they stay with them for the rest of their life. Will you be my penguin?
Did you make Santa's naughty list this year? You want to?
Are you from China? 'Cause I'm China suck your ____.
Is your name Summer because you are hot!
Your eyes are as blue as the ocean. And baby, I'm lost at sea.
Do you know karate? Because you're body's kickin'.
I'm lost, can I get directions to you bedroom?
What do you, yogurt, cereal, and soup have in common? They're all things I want to spoon.
I ain't a singing teacher, but I bet I could make you scream your highest note.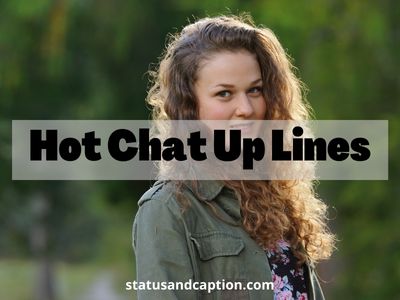 I may not go down in history, but I'll go down on you.
That shirt looks great on you… as a matter of fact, so would I.
You look like a hard worker. I have an opening you can fill.
Can I borrow your lips?
My doctor says I'm lacking vitamin U.
Is your name Google? Because you have everything, I've been searching for.
Are you a keyboard because I think you are my type.
They say Disneyworld is the happiest place on Earth; well, they obviously haven't been next to you.
If you were a transformer, you'd be a HOT-obot, and your name would be Optimus Fine
If we were playing poker, I would go all in. (Hot Chat Up Lines)
Of all the beautiful curves on your body, your smile is my favorite.
I don't want to initiate this conversation by saying you're beautiful, because beauty is on the inside and i haven't been inside you yet.
Baby, you're so sweet, you put Hershey's Kisses out of business.
Are you a rare steak? 'Cause if you were bleeding, I'd still eat you.
Has anyone ever touched your belly button from the inside?
What's the entry fee for your grand leg opening event?
Is it hot in here or is it just you?
There are no chairs left. Can I sit on ur f*ce?
Chat Up Lines For Hot People
Hey I just realized this, but you look a lot like… my next girlfriend
Remember my name, because you'll be screaming it later.
It's not my fault I fell for you; I got caught up in your beauty.
Are you my homework? Because I'm not doing you but I definitely should be.
I hate to see you go, but I love to watch you leave.
I've just moved you to the top of my 'to do' list
Is your dad a preacher? Because you're a blessing
There is something wrong with my cell phone. (What's wrong with it?) It doesn't have your number in it
If you were a triangle you'd be acute one.
Roses are red. Violets are blue. I'm coming home with you.
You know, if I were you, I'd have sex with me.
Your ass is so tight I want to crack my nuts on it.
Is your dad a good boxer because, wow, you are a knockout.
I'm new in town. Could you give me directions to your apartment? (Chat Up Lines For Hot People)
Is that a mirror in your pants because I can see myself in them.
What did you say your name was? I want to make sure I'm screaming the right name tonight.
There must be a light switch on my forehead because every time I see you, you turn me on!
Are you a trampoline? Because I want to bounce on you.
You're like my menorah's candles… getting hotter every day.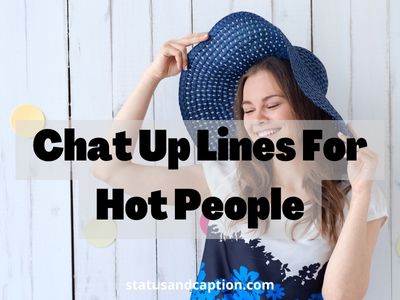 Can you take me to the hospital because I broke my leg falling for you?
That dress looks great on you… as a matter of fact, so would I
I seem to have lost my way. I was trying to find your heart but got captivated by your eyes.
Why don't you panic your parents and stay over at mine tonight without telling them?
I think there is something wrong with my eyes because I can't stop staring at you.
Are you a tamale? Because you're hot.
In the words of the great Lizzo, I just took a DNA test, turns out I'm 100% your base.
Is your name winter? Because you'll be coming soon.
If I was any object I would be a fan, so when you turn me on, I can cool you down when you get hot.
Excuse me, but do you give head to strangers? (No) Well then, allow me to introduce myself.
I can die a happy guy now because I now know what Heaven is like looking at you.
Want to play conductor? You be the engineer and I'll go choo-choo.
Did you fall from a vending machine? Because you are a snack, I would like to have.
Hotter Pick Up Lines
Dinner first, or can we go straight for dessert?
So as long as we're in the theatre… why don't we get some play?
You are so perfect that you give the sun a reason to shine every day.
Are you a campfire? Because you're hot and I want some more.
You want to know why menu is my favorite word? 'Cause it involves me n u.
Do I have to sign for your package?
Do you live on a chicken farm? (No) You sure know how to raise cocks
You shouldn't wear makeup, baby. It's messing with perfection. (Hotter Pick Up Lines)
Did the sun come out from behind the clouds, or did you just smile at me?
What's the difference between a Ferrari and an erection? I don't have a Ferrari.
You are so selfish. You're going to have that body the rest of your life and I just want it for one night.
As long as I have a face, you'll have a place to sit.
Are you a rubix cube? Because the more I play with you the harder you get.
Did you hear that new Cardi B song? Want me to sing it to you?
I'd offer you a cigarette, but you're already smoking hot.
If I had a dollar for every chick I'd seen as hot as you… I'd have one dollar!!
I'd love to be the devil on your shoulder and the devil on your lips.
We hope you like our Hot Pick Up Lines collections. If you do then please let us know with your comments. Also if you find this post helpful then share this video with your friends.