Are you trying to find killer Korean Pick Up Lines? If yes then this post will help you.
Korean language and lifestyle are becoming popular day by day. And most of the credit goes to K-pop singer BTS. These become the favorite of many women. However, BLACKPINK a Korean pop group is also one of my top favorite groups in the world.
Now in 2021, the Korean lifestyle has become so famous that people have started dating Korean people. But there is a big problem. And so is flirting with Koreans.
Well here is the solution. You can impress your crowd with Korean pickup lines. Yes, the pick up line is when you want to impress someone. So if your crush speaks Korean language then the below pick up lines will help you to make your date or conversation better.
Best Korean Pick Up Lines With English Translation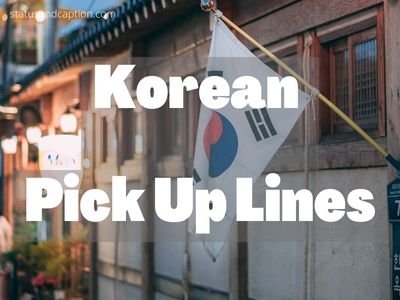 If you want good Korean pick up lines then keep reading cause below are some great ideas that you can copy.
Hey are you Korean 내 Seoul-Mate를 찾은 것 같아서

Hey are you Korean nae Seoul-Mateleul chaj-eun geos gat-aseo
Hey are you korean Because i think i found my Seoul-Mate
과학 괴짜에게 이것을 말하십시오. Hey girl are you 인공태양, 한국인이 개발한

gwahag goejja-ege igeos-eul malhasibsio. Hey girl are you ingongtaeyang, hangug-in-i gaebalhan
Tell this to a science geek. Hey girl are you artificial Sun developed by Koreans,
당신은 태양보다 더 뜨겁기 때문입니다.

dangsin-eun taeyangboda deo tteugeobgi ttaemun-ibnida.
Cause you are even hotter than the Sun.
"야 너 무슨 민족이냐?" "한국인 반 백인" "아 진짜요? 100% 섹시하다고 생각했으니까"

"ya neo museun minjog-inya?" "hangug-in ban baeg-in" "a jinjjayo? 100% segsihadago saeng-gaghaess-eunikka"
"Hey what ethnicity are you?" "Half Korean half White" "Oh really? Because I thought you were just 100% hot"
당신의 이름이 Do Kyungsoo 입니까? D.O 할 수 있으니까 너도.

dangsin-ui ileum-i Do Kyungsoo ibnikka? D.O hal su iss-eunikka neodo.
Is your name Do Kyungsoo? Because I can D.O. you too.
나는 "U"없이 "Suga"를 철자 할 수 없습니다.

naneun "U"eobs-i "Suga"leul cheolja hal su eobs-seubnida.
I can't spell "Suga" without "U".
블랙핑크요? 당신이 내 영역에 있기를 원하기 때문입니다.

beullaegpingkeuyo? dangsin-i nae yeong-yeog-e issgileul wonhagi ttaemun-ibnida.
Are you BLACKPINK? Because I want you to be in my area.
Hey "Mamacita", 나는 "Mr. 단순해" 하지만 당신은 "마법" 같다.

Hey "Mamacita", naneun "Mr. dansunhae" hajiman dangsin-eun "mabeob" gatda.
Hey "Mamacita", I'm "Sorry Sorry" that I'm not "Mr. Simple", but you're like "Magic".
당신은 인스피릿입니까? 당신에 대한 나의 사랑은 INFINITE이기 때문입니다.

dangsin-eun inseupilis-ibnikka? dangsin-e daehan naui salang-eun INFINITEigi ttaemun-ibnida.
Are you an Inspirit? Because my love for you is INFINITE.
당신은 한반도입니까? 내가 널 둘로 쪼갤 거니까

dangsin-eun hanbandoibnikka? naega neol dullo jjogael geonikka
Are you the Korean peninsula? Because I'm gonna split you in two
내 셔츠를 느껴봐; 그것은 남자 친구 재료로 만들어졌습니다.

nae syeocheuleul neukkyeobwa; geugeos-eun namja chingu jaelyolo mandeul-eojyeossseubnida.
Feel my shirt; it is made of boyfriend material.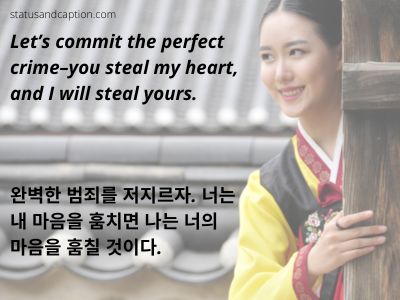 완벽한 범죄를 저지르자. 너는 내 마음을 훔치면 나는 너의 마음을 훔칠 것이다.

wanbyeoghan beomjoeleul jeojileuja. neoneun nae ma-eum-eul humchimyeon naneun neoui ma-eum-eul humchil geos-ida.
Let's commit the perfect crime–you steal my heart, and I will steal yours.
당신은 마술사입니까? 널 볼 때마다 다른 사람들은 모두 사라져 버리니까.

dangsin-eun masulsaibnikka? neol bol ttaemada daleun salamdeul-eun modu salajyeo beolinikka.
Are you a magician? Because whenever I look at you, everyone else disappears.
전화를 분실한 것 같은데 전화해 주실 수 있나요?

jeonhwaleul bunsilhan geos gat-eunde jeonhwahae jusil su issnayo?
I think I lost my phone, can you call it?
당신은 테네시 출신입니까? 당신이 내가 보는 유일한 10이기 때문에!

dangsin-eun tenesi chulsin-ibnikka? dangsin-i naega boneun yuilhan 10igi ttaemun-e!
Are you from Tennessee? Because you're the only ten I see!
대포를 쏘고 있는 걸까, 아니면 내 심장이 뛰는 소리였을까?

daepoleul ssogo issneun geolkka, animyeon nae simjang-i ttwineun soliyeoss-eulkka?
Was that a cannon firing, or just my heart pounding?
당신이 내가 찾는 모든 것이기 때문에 나는 당신을 Google이라고 부를 것입니다.

dangsin-i naega chajneun modeun geos-igi ttaemun-e naneun dangsin-eul Googleilago buleul geos-ibnida.
I am going to call you Google because you are everything I am searching for.
지구에 중력이 없어도 나는 여전히 당신에게 반했을 것입니다.

jigue junglyeog-i eobs-eodo naneun yeojeonhi dangsin-ege banhaess-eul geos-ibnida.
Even if there wasn't any gravity on earth, I'd still fall for you.
당신은 전기 기술자입니까? 당신은 확실히 내 하루를 밝게하고 있기 때문에!

dangsin-eun jeongi gisuljaibnikka? dangsin-eun hwagsilhi nae haluleul balg-gehago issgi ttaemun-e!
Are you an electrician? Because you're definitely lighting up my day!
나는 사진 작가는 아니지만 당신과 나를 함께 찍을 수 있습니다.

naneun sajin jagganeun anijiman dangsingwa naleul hamkke jjig-eul su issseubnida.
I am no photographer, but I can picture you and me together.
당신의 이름이 구글인가요? 당신은 내가 찾던 전부이기 때문입니다.

dangsin-ui ileum-i gugeul-ingayo? dangsin-eun naega chajdeon jeonbu-igi ttaemun-ibnida.
Is your name Google? Because you're everything I've been searching for.
당신을 따라갈 수 있습니까? 나는 내 꿈을 따르라고 말했다.

dangsin-eul ttalagal su issseubnikka? naneun nae kkum-eul ttaleulago malhaessda.
Can I follow you? I was told to follow my dreams.
자기야, 네가 앉았을 때 네 의자가 부러웠어.

jagiya, nega anj-ass-eul ttae ne uijaga buleowoss-eo.
Babe, when you sat down, I was jealous of your chair.
내가 당신의 줄리엣에게 로미오가 될 수 있습니까?

naega dangsin-ui jullies-ege lomioga doel su issseubnikka?
Can I be the Romeo to your Juliet?
4 더하기 4는 8이지만 너와 나를 더하면 운명이 된다.

4 deohagi 4neun 8ijiman neowa naleul deohamyeon unmyeong-i doenda.
Four plus four equals eight, but you plus me equals fate.
당신은 사전과 같습니다. 당신은 내 삶에 의미를 더합니다.

dangsin-eun sajeongwa gatseubnida. dangsin-eun nae salm-e uimileul deohabnida.
You're like a dictionary – you add meaning to my life.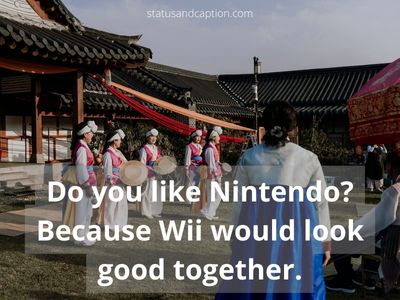 닌텐도 좋아하세요? Wii가 잘 어울릴 것이기 때문입니다.

nintendo joh-ahaseyo? Wiiga jal eoullil geos-igi ttaemun-ibnida.
Do you like Nintendo? Because Wii would look good together.
내가 식초라면 당신은 베이킹 소다여야 합니다. 당신은 내 안에 모든 거품을 느끼게 하기 때문에!

naega sigcholamyeon dangsin-eun beiking sodayeoya habnida. dangsin-eun nae an-e modeun geopum-eul neukkige hagi ttaemun-e!
If I'm vinegar, then you must be baking soda. Because you make me feel all bubbly inside!
나는 장기 기증자는 아니지만 당신에게 내 마음을 줄 수 있어 기쁩니다.

naneun jang-gi gijeungjaneun anijiman dangsin-ege nae ma-eum-eul jul su iss-eo gippeubnida.
I'm no organ donor but I'd be happy to give you my heart.
포크와 나이프가 있습니다. 작은 숟가락만 있으면 됩니다.

pokeuwa naipeuga issseubnida. jag-eun sudgalagman iss-eumyeon doebnida.
I have forks and knives; all I need is a little spoon.
Final Words
We Hope you Like your Korean Pick up line collection. If you do then please let us know with your comments. Also if you find this post helpful then share this video with your friends.
Read More Related Posts:-