Cell Phone Pick Up Lines:- We all know the classic pick up lines, like "Can I have your number?" or "Do you come here often?" But in the age of technology, there are new pick up lines that are specific to cell phones. In this blog post, we will explore some of the most popular cell phone pick up lines. From cheesy to flirtatious, there is something for everyone. So whether you are looking for a way to break the ice or just want a good laugh, read on for the best cell phone pick up lines.
Cell Phone Pick Up Lines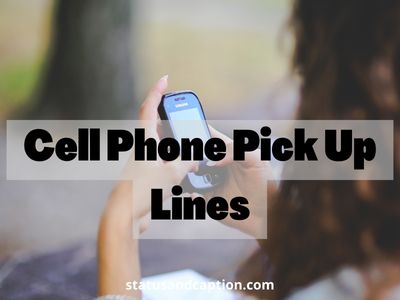 I am glad my mobile phone has GPS, because I am totally getting lost in your beautiful eyes.
I don't care if you make six digits. I just want your seven digits.
Hey, I just got my flight number. I'm just missing your phone number.
Give me your phone number, I bet it would look better on my phone than in your head.
Can I borrow your cell phone? I need to call animal control cause I just saw a fox!
Hey girl, are you a cell phone. Because I just want to look at you all night long.
Sorry, I would've texted sooner but my phone just overheated, I guess you're just too hot for tinder🥵
How can I know so many hundreds of digits of pi and not the 10 digits of your phone number?
Error 404: Your phone number seems to be missing from my phone.
I have a phone, you have a phone number. Think of the possibilities.
Girl, do you have cell phone in your back pocket? Bcoz dat kiss is calling me!!
I carry my cell phone not to feel important but so I can call you when I miss you.
Do you have a cell phone? My mom told me to call her when I find the girl of my dreams!
Do you know the difference between you and the new phone? The new iphone costs $1,000 and you are priceless.
Are you my phone? Cause I can't stop looking you.
I have a case of heartbreak and only your phone number can fix it
I avoid putting all my eggs in a basket but give me your number and, you'll be the first I break this rule for.
Here's my number. Text me when you're ready to date.
How can I plan our wedding without your number?
How am I supposed to shamelessly flirt with you in the middle of the night when I don't have your number?
Do you have a name you want me to save you as in my phone or should I just put 'mine'.
Hey girl, are you a cell phone. Because I just want to look at you and touch you all night long.
Girl, are you looking for a cell phone plan? Because my family plan got a new line for you.
Hey do you keep your phone in your back pocket? Because that kiss is calling me
Hey baby, can I get your phone number? Oops, too late.
I bet you smiled when you saw my name pop up on your phone just now.
Do you like magic tricks? Give me your phone to see my number appear on it!
Can I ask you for a favor? I seem to have lost my phone number, can I have yours?
Give me you cell phone number, I will call you when I need another drink.
Is there a phone in your back pocket by any chance Cause that kiss is calling me
I think there's something wrong with my cell phone? It doesn't have your number in it.
We hope you like our Cell Phone Pick Up Liness collections. If you do then please let us know with your comments. Also if you find this post helpful then share this video with your friends.
RECENT POST