Are you a music lover? Do you enjoy using pick up lines? If you answered yes to both questions, then this blog post is for you! We've compiled a list of music lyric pick up lines that are sure to impress. Whether you're a fan of classical music or pop, there's sure to be a line in this list that you'll love.
Music Lyric Pick Up Lines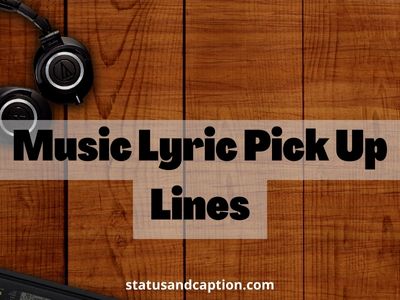 If I said you had a beautiful body Would you hold it against me? If I swore you were an angel, Would you treat me like the devil tonight? If I were dying of thirst Would your flowing love come quench me?
Call me AC/DC, because I'm gonna rock you all night long!
Tonight will be the night that I will fall for you over again/Don't make me change my mind/I won't live to see another day/I swear it's true/Because a girl like you is impossible to find
The truth is you could slit my throat/And with my one last gasping breath I'd apologize for bleeding on your shirt
Girl you must have swallowed a speaker, cause your beauty is louder than the rest.
I got my eyes on you. You're everything that I see. (Hold On We're Going Home) Drake
If perfect's what you're searching for then just stay the same. (Just the Way You Are) Bruno Mars
Don't worry, Babe, I've got your back And I've also got your front.
You feel like paradise; I need a vacation tonight. (Hold It Against Me) Britney Spears
Did you just move from the subdominant to the supertonic? Because I think you're my perfect counterpoint.
Intelligent too, Ooh, You my sweetheart. I've always liked my women book and street smart. (Fancy) Drake
I taste pain and regret in your sweat. You've been waiting for me. (Practice) Drake
So take me to your bed/And we can mess around
I may not be in love. But let me tell you I'm in heat. (Romeo) Dolly Parton
Know you got a roommate. Call me when there's no one there. (Best I ever Had) Drake
I saw you from across the room, and I got to admit it that you got my attention. You making me want to say yo. (Yo) Chris Brown
I'm a drummer, banging is what we do.
Said I gotta email today. Kinda thought that you, forgot about me. But I wanna hit you back to say, just like you, I get lonely. (I Get Lonely)
Hey, girl, what's your name? It's so loud in here I can't hear a thing. But I sure do like your style. (Sideways) Dierks Bentley
"Mercy, you looking fine! How do you get in those jeans baby, and tell me how do I?"
I C Major potential in us getting together.
Boy, if you wanna know the things I've been thinking You'd be meeting me outside.
Don't listen to the lies, I wear they all lies. You know I could be your knight in shining armor all tires. (Camera) Drake
Let's get these teen hearts beating faster, faster
But girl you ain't the only one that's trying to be the only one at least I admit that, if you get that, and you with that. Then, fuck, let's get it then. (We'll be Fine) Drake
Ever heard of Metalica? Because you could ride my lightning.
You must be a choir director, because you make my heart sing!
Hey, I just met you, and this is crazy, but can I get your number, and call you maybe? (Call Me Maybe) Carly Rae Jepsen
Anything you say can and will be held against you/So only say my name
How about we Duet all night long.
That's a nice set of mallets you have.
The songs on the radio are okay/But my taste in music is your face.
We hope you like our Music Lyric Pick Up Lines collections. If you do then please let us know with your comments. Also if you find this post helpful then share this video with your friends.
RECENT POST