Everyone uses social media apps like Instagram and Facebook.. right. But are these platforms paying you for using it? No right.. well, today we are going to show you the best app which will help you to earn money for posting content. The name of the platform is Display App which was earlier known as TSU App.
Don't worry if you don't know or have never heard of the Display app. Because today we have created a special tutorial guild about Display Social App. With this tutorial, you will learn how to use this platform. Also, how to earn money just by publishing content.
What Is Display App?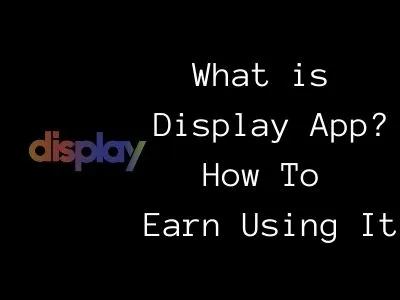 Display App or Display Social App is a platform owned by Display Inc. It was created by John Acunto, Scott Weisberg, Sean Krauss and David Kerzner. The Display app was officially released in May 2021.
It was earlier known as TSU App which the company converts to the current app. The purpose of the platform is to give publishers some credit for their content. The company's chief executive officer, John Acunto, said the company would share 50% of advertising revenue with the publisher on the display app.
This is why the Display app is different from other social media apps as it gives importance to the work of publishers.
How to Make An Account On Display App?
Creating an account on the Display app is very easy. All you need is a smartphone with an internet archive. In order to install the app on your smartphone, you need to go to your Google Play Store or App Store.
Type "display app" The first app with the d icon is the official app.
Now…
Step One:- You will see the welcome screen when you launch the app after clicking on the install button. Then the app will give you the account you want to link the app to for you to choose.
The best part is that the app will give you multiple platforms like Gmail, Email, Facebook, and even Twitter. Plus, you can create an account on their own server.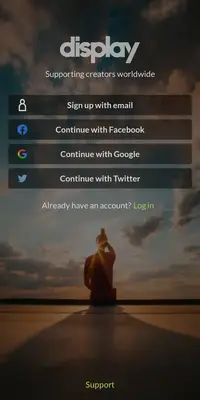 Step Two:- Now you have chosen which platform you want to use to create the account. You will need to choose a unique username for your profile. And remember to choose a user-friendly username, which means it can be easily read and remembered by anyone.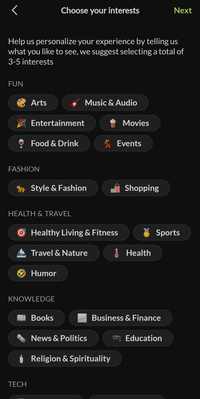 Step Three:- Choose your favorite category or hobby. This will help you find the best people in your similar niche. It will entertain you and show you what is trending right now.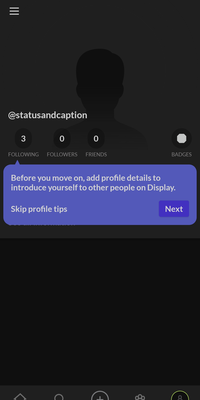 Step Four:- This is the last step as you have created your account. But the only thing left is to edit your profile and personal details. And you're done.
How to Make Money Using The Display App?
The reason people want to use this app is that the company shares the advertising revenue with its active users.
And it's very easy.
You just have to publish good content on a regular based. The more your post is shown in the search feed the more you will earn from this app.
Ads
As we mentioned, the Display app will give you 50% of ad revenue which is great for all those publishers who spend a lot of time on research and creativity.
The process is very simple, just like whenever you publish any content. If your ad will appear after your post then you will get revenue. Is it easy?
Another great thing about the app is that you can redeem as little as $25 from your account. You can transfer money to your PayPal and also send it to the account.
Support Me Button
Another way to earn passive income from the app is to support me button. Well, this button is like the donate button to me because if someone really likes your video or image they can tap the dollar button at the bottom of your post.
Referral
Like other apps, the Display Social app also pays for all referral links. This means if someone downloads the app from your referral link then you will get a commission.
Best Tips For Earn Money From Display App
Stay Constant
If you want to earn money from display app then you have to learn the first skill. In a team that generates passive income, many people give in too quickly. Everyone needs to know that a passive income takes time to generate but when it does it will generate wealth even while you are sleeping.
Quality
Many people take this step the wrong way. As they show consistency but do not focus on quality. Let me tell you that to be successful on any platform one has to show consistency to generate good quality content.
To create good quality content you can use Canvas which is a freemium tool and is recommended by many companies.
Optimization
When it comes to getting your posts listed on top of your competitors there is one skill you need to learn and apply and that is optimization.
You need to use hashtags to optimize your posts to beat your competitors. Hashtags will help others find your content.
Join The Cummunities
If you want people to find you and appreciate your hard work then the best thing you can do is publicity. Don't worry we are not talking about ads.
To promote your content you can join communities inside your good so others can see your content and hit the like and support me icons.
What Feature Do You Get?
Like we said this platform is wonderful for publishers. As they want to capture other social media platforms. The company provides a lot of amazing features which you can use for example:-
Home:- It's not like your Instagram home button where you can only see the feeds of your friends and people you follow. Display app shows you all trendy posts with your interest. You'll also see ads on the home screen that you can just scroll to skip. These are ads that will help publishers to earn passive income.
Discover:- This is the official search feature for the Display app. It is very similar to the Instagram Discover page. By clicking the button you will be redirected to a page where you can find more publishers. You can also copy the trend which will give you more followers and likes.
Add Content:- In the middle of the bottom bar, you will see the + sign which will help you to upload your valuables. When you click on the + icon the app will ask for permission to access your files and storage. Don't worry because there is no report and complaint has been filed against a company like Tiktok. After giving approval, you can also upload images, gifs and videos on your profile.
Communities:- This feature makes Display Social App better and different from other social media platforms. The future of communities allows you to connect with the most amazing people with similar interests. One of the top communities that the platform is bitcoin, video and bollywood.
Profile:- Finally, you will find the profile icon where all your feeds will be visible. You may be given permission to delete or view all of your followers and followings on this page. The Display app also gives you the freedom to edit your profile. You can attract more visitors if you edit your profile to optimize.
Read More:-